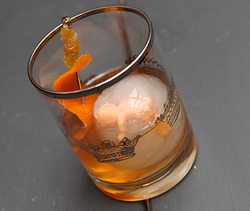 KING CAKE OLD FASHIONED
A recipe by the beautiful singing Bar Chef Abigail Gullo of SoBou
2 parts Rougaroux 13 Pennies Praline Rum
2 dashes of El Guapo Chicory-Pecan Bitters
.25 parts Cinnamon Syrup (homemade)
1 (1/2- by 3-inch) piece orange peel
2 to 3 golden raisins for garnish
Place 1 (2 1/2-inch) ice cube in a rocks glass.
Add the rum, the bitters, and cinnamon syrup, and stir until well chilled.
Squeeze the orange peel over the drink, making sure the oils fall into the glass, then thread the peel,
along with the raisins, onto a cocktail pick. Place the pick in the drink and serve.
Recipe courtesy of Epicurious - full recipe can be found on Epicurious.com
Photo by Sara Bonisteel

_____
A. SMITH MANHATTAN
A recipe by Sir Stache Joshua 'Doc' Johnson at Taha'a Twisted Tiki
2 parts Mount Gay Rum Black Barrel
.5 part Dolin Rouge vermouth
.25 part Dolin Blanc vermouth
2 dashes El Guapo Bitters Chicory-Pecan
Stir ingredients with ice until well chilled and strain into a cocktail glass.
Garnish with an orange twist.

_____
REMEMBER HER NAME
A recipe by Becca June Conklin at the Bourbon O.
1.5 parts Jameson
.75 parts Carpano
.25 parts Bols Banana Liqueur
4 dashes El Guapo Chicory Pecan Bitters
2 dashes Peychaud's Bitters
Stir and garnish with an orange twist and a flaming spritz of absinthe

_____
OLD FASHION OLD FASHIONED
2 parts Bourbon or Rye Whiskey
1 Sugar Cube
several dashes of El Guapo Chicory-Pecan Bitters
splash of water
1 wide strip of orange or lemon peel
1 Cherry, Luxardo or similar (please not the fake neon red kind)
Drop a sugar cube in an old fashioned glass and soak completely with the bitters until they run off and puddle in the bottom of the glass. Add a splash of water and muddle until most of the sugar is dissolved. Add the citrus peel and lightly press with muddler to express the oils, but not so hard it breaks apart. Add the whiskey and a large cube of ice (or fill with normal sized cubes). Give it a stir and garnish with the cherry on a cocktail pick.

_____
EL GUAPO'S EGG NOG

4 eggs separated
1/3 cup sugar, +2 tbs
2 cups whole milk
1 cup heavy cream
4-6oz bourbon - I use 6 ;)
16 dashes El Guapo Chicory-Pecan Bitters
2 tsp freshly grated nutmeg
Beat egg yolks until they lighten in color (pale yellow) add sugar and beat until creamy and dissolved. Add milk, cream, bourbon, bitters, and nutmeg. Blend until well incorporated. In a separate bowl beat the egg whites and 2 tbsp sugar until stiff peaks form. Gradually whip the egg whites into the milky boozy mixture. Serve immediately with a little grated nutmeg and a dash or spritz of the bitters on top.

_____
CHICORY-PECAN MANHATTAN
2 parts Rittenhouse 100 proof Rye Whiskey
1/2 part Carpamo Antica Vermouth
2-3 dashes El Guapo's Chicory-Pecan Bitters
Add all ingredients to a mixing glass, fill with ice. Stir until well chilled.
Strain into a cocktail glass. Garnish with a Luxardo cherry.

_____

View all El Guapo Bitters & Syrups products