EL GUAPO GUMBO BITTERS - COCKTAIL RECIPES
EL GUAPO'S ELIXIR OF THE GORN
2 parts barrel aged Samogon
1 part Green Chartreuse
1 part lime juice
1 part simple syrup
2 dashes El Guapo Gumbo Bitters
Shake the above and strain into a tall glass.
Top with a Kolsch style beer and garnish with a salted lime wheel.
___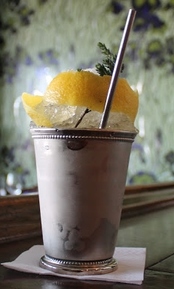 EL GUAPO'S GUMBO JULEP
Mix in the julep cup:
1 barspoon superfine sugar
3 pieces lemon peel in the bottom
fresh sprig of thyme
Very lightly press the lemon peel and sugar together using a muddler; the thyme is strongly aromatic and doesn't need to be muddled.
Then add:
1 part KOVAL caraway liqueur
2 parts Rye Whiskey
3 dashes El Guapo Gumbo Bitters
Swirl to dissolve the sugar. Beat ice until finely crushed in a canvas Lewis bag or pillow case.
Add ice to the julep cup, and keep adding until there is a rounded cone on top.
___
EL GUAPO'S MOON OVER THE ALGIERS FERRY
1 part ONOR Amber 3yr rum
1 part Bulleit bourbon
1/2 part Cherry Heering
1 barspoon Herbsaint
2 dashes El Guapo Gumbo Bitters
Stir over ice in a mixing glass and strain into a rocks glass - serve with a lemon twist and a Luxardo cherry.
I like this drink unsweetened and strong, but some people prefer a dash of simple syrup added.
___
LEMAT'S GRAPE SHOT REVOLVER
2 parts Bulleit Bourbon
1-2 barspoons Blueberry syrup
Several dashes of El Guapo Gumbo Bitters
Add all ingredients to an old fashioned glass and give a quick stir.
Drop in a large chunk of ice. Garnish with a large thin strip of lemon peel.
___
NEW ORLEANS FALL GUMBO PUNCH
Peels form 6 lemons & 2 oranges
8 oz raw sugar
6 cups hot water
2 lemons & 1 orange sliced thin
1/2 bottle ONOR 3yr & 1/2 bottle ONOR Cajun Spice
1 oz El Guapo Gumbo Bitters
1 bottle of ONOR Gingeroo (optional)
Grated nutmeg
Add the lemon and orange peels to the sugar and let sit for 20 min. to extract the oils. Add hot water and stir to dissolve the sugar. Let cool.
Add the rums, bitters, lemon and orange slices to the sugar and peel mixture. Add ice and serve inn punch glasses with a scraping of nutmeg.
If a sparkling punch is desired, add 1 bottle of Gingeroo to the punch.
___
EL GUAPO'S CREOLE GUMBO MARTINI
2 parts Oryza Gin or Shpilka Vodka
1 part Dolin Dry Vermouth
A few dashes of El Guapo Gumbo Bitters
Chill a cocktail glass. Add all ingredients to a mixing glass and stir until well chilled.
Strain into the chilled glass. Garnish with a pickled onion or cherry tomato and a sprig of thyme.
___
VIEW ALL EL GUAPO BITTERS & SYRUPS